Share this!
You're invited to Cultivate Kansas City's 
Homegrown Happy Hours!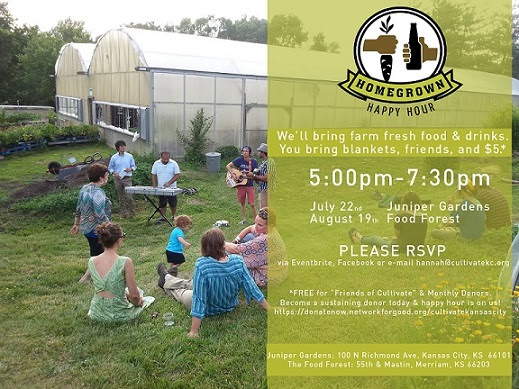 Please join Cultivate Kansas City for an after-work happy hour Wednesday, July 22 celebrating local food and global flavor at our Juniper Gardens Training Farm, home of New Roots for Refugees.
Cultivate Kansas City's Homegrown Happy Hours feature appetizers, Boulevard beer, live music, and farm tours. The farmers and friends of the farm would be delighted if you could join us!
The event is only $5 – and it's free for Friends of Cultivate and Monthly Donors. RSVP for July 22 via Eventbrite. 
FRIENDS OF CULTIVATE have donated $250 or more in the past year.
Become a Friend of Cultivate today!
Beth & Keith Alm

Judy Ancel

David Andre

Victoria Barnard

Susan Barreca

Molly & Dan Beebe

Lainey & Richard Beleutz

Libby & Bob Berkebile

Shannon Berry

Mary & Tom Bloch

Bradley Boers

Lauire Bomba & Andy Fromm

Mary Jo & Bob Brown

Jennifer Cawley

Thomas Clark

Lauren & Dan Chapman

Christy Cubbage

Melissa Eichman

Karie Fahrenholz

Linda Falk

Coleen Flathman

Kelley & Clayton Funk

Cliff Gall

Mary & Tom Garbach

Julia Gargallo & Greg Woodhams

Shonda Garrison

Gretchen Gearin

Allison & Darren Harding

Amanda & David Hassett

Jim Heeter

Linda Hezel & Richard Moore

Hannah & Brandon Hidaka

Roxanne Hidaka

R.J. Hines

Carolyn & Glenn Hodges

Shannon Hoffmann & Alan Johnson

Jim Horlacher

Mike Hursey

Roxanne Hutton & Mark Otterstrom

Corliss & Joseph Jacobs

Linda & Bryan Johnson

Rhonda & Chris Johnston

Julie and Lenny Jurden

Katherine Kelly

Nancy & David Kenner

Jennifer Kieltyka & Dr. Chris Powell

Demi & David Kiersznowski

Dr. Bethany & David Klug

Brenda & Dan Kumm

Suzanne & Jim Lammert

Cathy Lamothe

Joan & John Leavens

Dr. Luci Lee

Katie Lorand & Paul Chan

Howard Lotven

Laura Lutz

Tiffany and Greg Lynch

Jeanne Mackay

Robin & John Maiale

Kathy & Pete Malone

Amy & Scott Maurer

Sherly & Bradford Max

Carrie McDonald & Michael Fabrizio

Candace & Charles McDowell

Patricia & Andrew McGhie

Liesl McLiney

Desiree Monzine

Alfonso Morales

Donald Morehouse & Kevin Chafin

Kimi Nelson

Johanna Nilsson & Brian Paul

Howie Olson

Robert & Deborah Reiman

Dr. Michelle Robin

Meredith Rolla

John Sapp

Joann Schwarberg

Maggie Shine

Linda & Dan Siemens

Karen & Eric Steen

Michele & James Stowers

Matthew Stuppy

George Terbovich

Rebecca Turner

Carolyn Vellar & Scott Wilkerson

Leigh Wagner & Rob Bauer

Nancy & Bruce Waugh

Debbie Wilkerson

Christine & Barry Wilson

Greg Woodhams

Gwen & Tim Wurst
MONTHLY DONORS help support Cultivate Kansas City with their reoccurring monthly donations.
Roxanne Hutton
Donnie  Morehouse
Amanda Owen
Alex Richardson
Schuyler Whiteley
Ashley Watts
When you donate to Cultivate Kansas City, a 501(c)(3) charitable organization, you make a REAL DIFFERENCE in our community!
---
Follow KC Farmers' Markets